In the Sky This Week – July 21, 2020
Comet C/2020 F3 (NEOWISE) continues to dominate astronomy news this week; VOF blogger Fr. James Kurzynski posted several beautiful comet pictures of his in an article on this site.
Comet NEOWISE appears in the northwestern evening sky before midnight all week.
The Moon appears in the western sky near dusk this week - it should make a great observing target by the weekend.
Jupiter and Saturn continue to make great late evening and early morning observing targets all week in the southern sky.
Mars continues to appear high in the southeastern predawn sky this week.
Venus appears near the star Aldebaran, and Mercury appears low above the horizon all week; Mercury reaches its highest point on July 23rd, and then starts back towards the horizon.
The new Moon occurred on Monday July 20th - the Moon is not visible at this time...
The Moon is now a waxing crescent - visible toward the southwest in early evening.
The first quarter Moon occurs on July 27th - it will be visible high in the southern sky in early evening.
Moon News
NASA Fact: The most iconic and requested Apollo 11 image is this photo of Astronaut Buzz Aldrin on the moon taken by Astronaut Neil Armstrong. If you look closely, you can see Armstrong in the photo capturing this very moment on July 20, 1969. pic.twitter.com/hO1I1VKXVr

— NASA HQ PHOTO (@nasahqphoto) July 20, 2020
The Sun has been spotless for 10 days - it appears that a sunspot is emerging on the limb of the Sun in the lower left of the video. The northern coronal hole is now huge, while the southern hole remains small; more small coronal holes pepper the face of the Sun.
The Sun seen in 193 angstroms (extreme ultraviolet)  July 20, 2020:
Medium prominence activity, with a really nice loop! Look closely at the lower left near the end of the video, and you'll see the bright active region coming into view.
The Sun seen in 304 angstroms (extreme ultraviolet) July 20, 2020:
Videos courtesy of
NASA/SDO
and the AIA, EVE, and HMI science teams.
You can view the Sun in near real-time, in multiple frequencies here: 
SDO-The Sun Now.
You can create your own time-lapse movies of the Sun here:
AIA/HMI Browse Data.
You can browse
all
the SDO images of the Sun from 2010 to the present here:
Browse SDO archive
.
Facebook: SolarActivity - Run by Solar System Ambassador Pamela Skivak
Sun News from SpaceWeather.com:
CME IMPACT POSSIBLE THIS WEEK: On July 19th, a faint, slow-moving CME left the sun. NOAA analysts believe the plasma cloud could graze Earth's magnetic field on July 24th or 25th. A similar slow-moving CME hit Earth on July 13th, causing high-latitude auroras and a surprise visit from STEVE.
Solar Corona
Solar wind speed is 355.7 km/sec (↓), with a density of 4.2 protons/cm3 (↓) at 1305 UT.
Near real-time animation of the corona and solar wind from the Solar & Heliospheric Observatory (SOHO):
Upcoming Earth-asteroid encounters:
| | | | | |
| --- | --- | --- | --- | --- |
| Asteroid | Date(UT) | Miss Distance | Velocity (km/s) | Diameter (m) |
| 2002 BF25 | 2020-Jul-21 | 9.4 LD | 6.8 | 129 |
| 2020 NO | 2020-Jul-22 | 2 LD | 7.6 | 16 |
| 2020 ON | 2020-Jul-23 | 13.6 LD | 17.4 | 64 |
| 2020 ND | 2020-Jul-24 | 14.5 LD | 13.6 | 153 |
| 2020 NN | 2020-Jul-25 | 16.3 LD | 10.1 | 47 |
| 2020 NZ | 2020-Jul-28 | 8.2 LD | 7.8 | 29 |
| 2020 MX3 | 2020-Jul-29 | 9.4 LD | 8.5 | 66 |
| 2018 PY7 | 2020-Jul-31 | 8.9 LD | 9.5 | 16 |
| 2007 RF1 | 2020-Jul-31 | 10.7 LD | 5 | 21 |
| 2018 BD | 2020-Aug-03 | 7.6 LD | 9.4 | 3 |
| 2009 PQ1 | 2020-Aug-05 | 10.8 LD | 13.5 | 112 |
| 2020 FA1 | 2020-Aug-23 | 18.4 LD | 1.9 | 20 |
| 2016 AH164 | 2020-Aug-26 | 15.7 LD | 5.6 | 4 |
| 2011 ES4 | 2020-Sep-01 | 0.3 LD | 8.2 | 30 |
| 465824 | 2020-Sep-06 | 19.4 LD | 14 | 162 |
| 2012 RM15 | 2020-Sep-12 | 14.9 LD | 9.8 | 45 |
| 2017 US | 2020-Sep-13 | 17.3 LD | 5.9 | 21 |
Notes: LD means "Lunar Distance." 1 LD = 384,401 km, the distance between Earth and the Moon. Red highlighted entries are asteroids that either pass very close, or very large with high relative velocities to the Earth. Table from SpaceWeather.com
On July 20, 2020, the NASA All Sky Fireball Network reported 7 fireballs. 
((6 sporadics, 1 alpha Capricornid)
Fireball News
Captured #Comet #NEOWISE and a #meteor in the same frame during a 2 second exposure outside of #Memphis TN. July 19, approx 9:50 PM Central time. #globalmeteornetwork @IMOmeteors @amsmeteors pic.twitter.com/V6nwCrcaYC

— Roger Cotton (@RogerCottonPics) July 21, 2020
Position of the planets and a couple spacecraft in the inner solar system.
Position of the planets in the middle solar system:
Position of the planets some transneptunian objects in the outer solar system:
Highlight: Saturn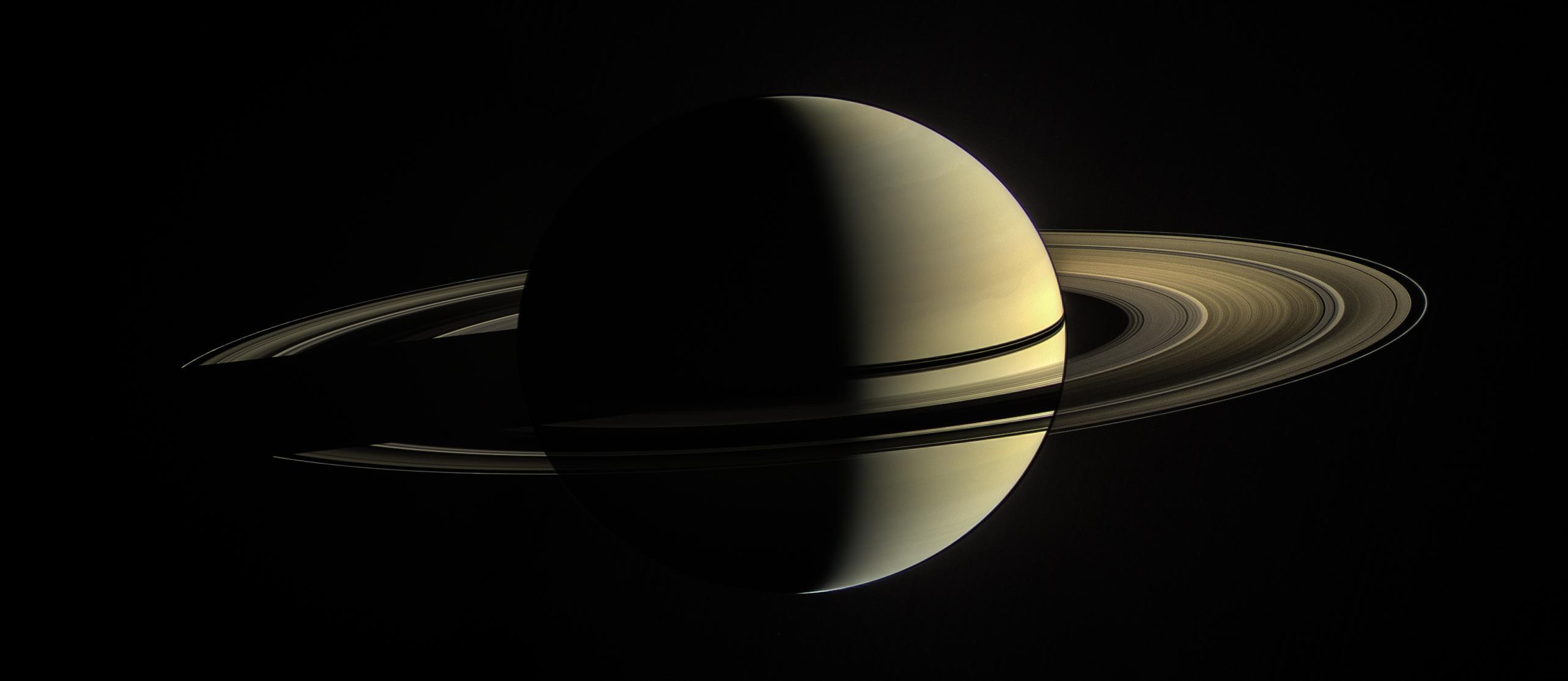 Saturn is the sixth planet from the Sun and the second-largest in the Solar System, after Jupiter. It is a gas giant with an average radius of about nine times that of Earth. It only has one-eighth the average density of Earth; however, with its larger volume, Saturn is over 95 times more massive. Saturn is named after the Roman god of wealth and agriculture; its astronomical symbol (♄) represents the god's sickle.

Saturn's interior is most likely composed of a core of iron–nickel and rock (silicon and oxygen compounds). Its core is surrounded by a deep layer of metallic hydrogen, an intermediate layer of liquid hydrogen and liquid helium, and finally a gaseous outer layer. Saturn has a pale yellow hue due to ammonia crystals in its upper atmosphere. An electrical current within the metallic hydrogen layer is thought to give rise to Saturn's planetary magnetic field, which is weaker than the Earth's, but has a magnetic moment 580 times that of Earth due to Saturn's larger size. Saturn's magnetic field strength is around one-twentieth of Jupiter's. The outer atmosphere is generally bland and lacking in contrast, although long-lived features can appear. Wind speeds on Saturn can reach 1,800 km/h (1,100 mph; 500 m/s), higher than on Jupiter, but not as high as those on Neptune.

The planet's most famous feature is its prominent ring system, which is composed mostly of ice particles, with a smaller amount of rocky debris and dust. At least 82 moons are known to orbit Saturn, of which 53 are officially named; this does not include the hundreds of moonlets in its rings. Titan, Saturn's largest moon, and the second-largest in the Solar System, is larger than the planet Mercury, although less massive, and is the only moon in the Solar System to have a substantial atmosphere.  - Wikipedia

There is an absolute TON more about Saturn in this Wikipedia article.
Saturn's Moons
Saturn has 82 known moons, 53 of which have formal names. In addition, there is evidence of dozens to hundreds of moonlets with diameters of 40–500 meters in Saturn's rings, which are not considered to be true moons. Titan, the largest moon, comprises more than 90% of the mass in orbit around Saturn, including the rings. Saturn's second-largest moon, Rhea, may have a tenuous ring system of its own, along with a tenuous atmosphere. - Wikipedia
NASA's Cassini Mission
NASA's Cassini mission orbited Saturn for over a decade - it is by far my favorite space mission; this mission finale video makes me cry every time I see it:
Read more about Saturn on NASA's Solar System Exploration site: https://solarsystem.nasa.gov/planets/saturn/overview/
OSIRIS-REx Asteroid Sample Return Mission
The University of Arizona has played a role in mapping most major objects in the solar system. Now, it adds the asteroid Bennu to the list. The Bennu Global Mosaic is the highest resolution map of any celestial body.https://t.co/h3tNqWTTSd

— Univ. of Arizona 🐻⬇ (@uarizona) July 16, 2020
International Space Station
.@hayleemarissa_ wants to know, "How training underwater for a spacewalk mimics being weightless." #AskNASA | https://t.co/yuOTrYN8CV https://t.co/kBtLHgnvic pic.twitter.com/U3yaQF31ge

— Intl. Space Station (@Space_Station) July 21, 2020
.@AstroBehnken and @Astro_SEAL are setting up the Tranquility module for the new @NanoRacks airlock. You can also see the #BEAM from @BigelowSpace on the left. #AskNASA | https://t.co/yuOTrYN8CV pic.twitter.com/y6Ms4ihzjO

— Intl. Space Station (@Space_Station) July 21, 2020
NASA Perseverance Mars Rover
⚡️ "Twitter Q&A: All about my mission and the #CountdownToMarshttps://t.co/7rK3hRv6Db

— NASA's Perseverance Mars Rover (@NASAPersevere) July 20, 2020
Hubble Space Telescope
ESA/Hubble #Flashback: This image showcases NGC 1501, a complex planetary nebula located in the large but faint constellation of Camelopardalis (The Giraffe).

Credit: @ESA / @Hubble_Space / @NASA https://t.co/zvufip1rYN pic.twitter.com/np2zyHY60M

— HUBBLE (@HUBBLE_space) July 20, 2020
I am looking at the Star HD110058 with Space Telescope Imaging Spectrograph for Dr. Luca Matra. https://t.co/CXWfQVUUkJ pic.twitter.com/5nAfXMzTlm

— Space Telescope Live (@spacetelelive) July 21, 2020
Climate
We have updated our "vital sign" dashboard with the latest sea level data, as measured from space.

If you live on a coastline, keep tabs on this key indicator of climate change. https://t.co/f8Cpqo7QQT

— NASA Climate (@NASAClimate) July 20, 2020
UPDATE: Last month's global average concentration of atmospheric carbon dioxide (CO2) was about 414 parts per million (ppm).

⬆️ about 24 ppm from June 2010
⬆️ about 45 ppm from June 2000
⬆️ about 60 ppm from June 1990https://t.co/qjYgQZqqbL

— NASA Climate (@NASAClimate) July 16, 2020
Several lines of evidence show that current global warming cannot be explained by changes in the Sun's energy.

With that said, we have updated our "Temperature vs Solar Activity" graphic, available in both English and Spanish. https://t.co/0OPVgX2PnF pic.twitter.com/xc62eHT3bR

— NASA Climate (@NASAClimate) July 15, 2020
Operation #IceBridge Alaska has had a crucial view of Alaska's glaciers for the last 11 years. The region is warming more than twice as fast as the rest of the world. As the glaciers melt, they contribute to rising seas. Our latest #EarthExpeditions blog:https://t.co/MggkOuroOn pic.twitter.com/od6xoPf7mD

— NASA Earth (@NASAEarth) July 10, 2020

ex·o·plan·et /ˈeksōˌplanət/, noun: a planet orbiting a star other than the Sun.
Data from the NASA Exoplanet Archive
* Confirmed Planets Discovered by TESS refers to the number planets that have been published in the refereed astronomical literature.
* TESS Project Candidates refers to the total number of transit-like events that appear to be astrophysical in origin, including false positives as identified by the TESS Project.
* TESS Project Candidates Yet To Be Confirmed refers to the number of TESS Project Candidates that have not yet been dispositioned as a Confirmed Planet or False Positive.
.@IDADarkSky infographic describing the successful outcome of converting city street lights here in Tucson from high-pressure sodium to 3000K white LED. It was win-win-win all the way around, and more importantly, @cityoftucson achieved significant support from residents. pic.twitter.com/AGh4HOQEia

— Dr. John Barentine FRAS (@JohnBarentine) July 17, 2020

The Local Stellar Neighborhood
Continuing with my visual tour of nearby stars and their systems, we travel to Kapteyn's Star, 12.76 light years distant. This star orbits the galaxy center retrograde!
Kapteyn's Star
Kapteyn's Star is a class M1 red subdwarf about 12.76 light years from Earth in the southern constellation Pictor; it is the closest halo star to the Solar System. With a magnitude of nearly 9 it is visible through binoculars or a telescope.

Its diameter is 30% of the Sun's, but its luminosity just 1.2% that of the Sun. It may have once been part of the globular cluster Omega Centauri, itself a likely dwarf galaxy swallowed up by the Milky Way in the distant past. The discovery of two planets — Kapteyn b and Kapteyn c — was announced in 2014.

Attention was first drawn to what is now known as Kapteyn's Star by the Dutch astronomer Jacobus Kapteyn in 1898. Under the name CPD-44 612 it was included in the Cape photographic Durchmusterung for the equinox 1875 (−38 to −52) by David Gill and Jacobus Cornelius Kapteyn in 1897. This catalogue was based on Gill's observations from the Cape Observatory in 1885–1889 and was created in collaboration with Kapteyn. While he was reviewing star charts and photographic plates, Kapteyn noted that a star, previously catalogued in 1873 by B.A. Gould as C.Z. V 243, seemed to be missing. However, R.T.A. Innes found an uncatalogued star about 15 arc seconds away from the absent star's position. It became clear that the star had a very high proper motion of more than 8 arc seconds per year and had moved significantly. Later, CPD-44 612 came to be referred to as Kapteyn's Star[14] although equal credit should be accorded to Robert Innes. At the time of its discovery it had the highest proper motion of any star known, dethroning Groombridge 1830. In 1916, Barnard's Star was found to have an even larger proper motion. In 2014, two super-Earth planet candidates in orbit around the star were announced.

Based upon parallax measurements with the Hipparcos astrometry satellite, Kapteyn's Star is 12.76 light-years (3.91 parsecs) from the Earth. It came within 7.00 light-years (2.15 parsecs) of the Sun about 10,800 years ago and has been moving away since that time. The star is between one quarter and one third the size and mass of the Sun and has a much cooler effective temperature at about 3500 K, with some disagreement in the exact measurements between different observers. The stellar classification is sdM1, which indicates that it is a subdwarf with a luminosity lower than that of a main-sequence star at the same spectral type of M1. The abundance of elements other than hydrogen and helium, what astronomers term the metallicity, is about 14% of the abundance in the Sun. It is a variable star of the BY Draconis type with the identifier VZ Pictoris. This means that the luminosity of the star changes because of magnetic activity in the chromosphere coupled with rotation moving the resulting star spots into and out of the line of sight with respect to the Earth.

Kapteyn's Star is distinctive in a number of other regards: it has a high radial velocity, orbits the Milky Way retrograde, and is the nearest known halo star to the Sun. It is a member of a moving group of stars that share a common trajectory through space, named the Kapteyn moving group. Based upon their element abundances, these stars may once have been members of Omega Centauri, a globular cluster that is thought to be the remnant of a dwarf galaxy that merged with the Milky Way. During this process, the stars in the group, including Kapteyn's Star, may have been stripped away as tidal debris. - Wikipedia
Kapteyn's Star System Architecture
Kapteyn's Star Exoplanet Orbital Diagram
Artist's Rendering of Exoplanet Kapteyn b
---
Stay safe, be well, and look up!
---
Apps used for this post:
NASA Eyes on the Solar System: an immersive 3D solar system and space mission simulator - free for the PC /MAC. I maintain the unofficial NASA Eyes Facebook page.
Universe Sandbox: a space simulator that merges real-time gravity, climate, collision, and material interactions to reveal the beauty of our universe and the fragility of our planet. Includes VR support.
SpaceEngine: a free 3D Universe Simulator for Windows. Steam version with VR support available.
Stellarium: a free open source planetarium app for PC/MAC/Linux. It's a great tool for planning observing sessions. A web-based version of Stellarium is also available.
---
Section header image credits:
The Sky - Stellarium / Bob Trembley
Observing Target - Turn Left at Orion / M. Skirvin
The Moon - NASA/JPL-Caltech
The Sun - NASA/JPL-Caltech
Asteroids - NASA/JPL-Caltech
Fireballs - Credited to YouTube
Comets - Comet P/Halley, March 8, 1986, W. Liller
The Solar System - NASA Eyes on the Solar System / Bob Trembley
Spacecraft News - NASA Eyes on the Solar System / Bob Trembley
Exoplanets - Space Engine / Bob Trembley
Light Pollution - NASA's Black Marble
The Universe - Universe Today