In the Sky This Week – February 26, 2019
This summer's nationwide library reading program, "A Universe of Stories," coincides with NASA's 60th anniversary, and the 50th anniversary of the Apollo 11 Moon landing. The Warren Astronomical Society (Michigan) has received multiple requests from libraries for summer speakers, astronomy programs and display case setups - and they're still coming in! I've reached out to other astronomy clubs and volunteer NASA/JPL Solar System Ambassadors in southeastern Michigan for help covering all the outreach requests.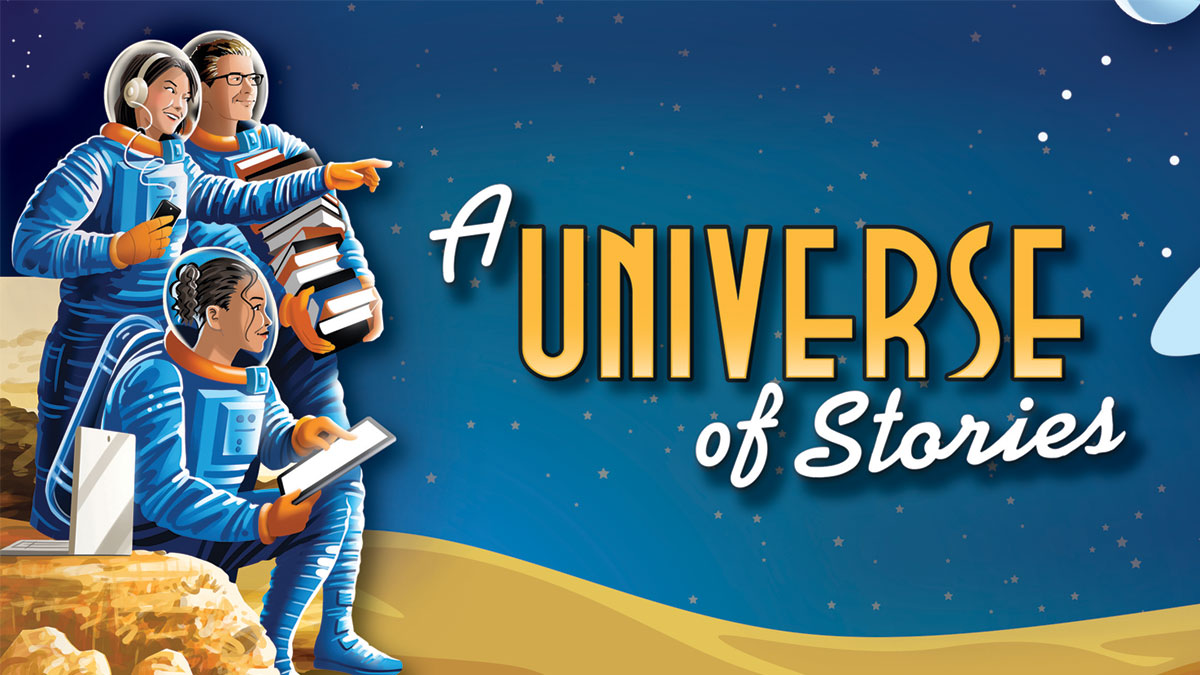 If you are looking for speakers for this summer, Solar System Ambassadors in your state, and local astronomy clubs are a great resource. You can find many clubs and events listed on the NASA Night Sky Network site.
Venus and Saturn continue to spread apart this week, and the waning crescent Moon appears very near several planets in the southeastern predawn sky.
Mercury can be seen very low in the western sky at dusk this week.
Mars and Uranus are high in the west-southwestern sky before midnight; Mars will be slowly moving away from Uranus all month.
Orion and Taurus can be seen setting in the west shortly after midnight this week.
M44 - The Beehive Cluster
The Beehive Cluster (also known as Praesepe (Latin for "manger"), M44, NGC 2632, or Cr 189), is an open cluster in the constellation Cancer. It is one of the nearest open clusters to Earth, containing a larger population of stars than other nearby bright open clusters. Under dark skies, the Beehive Cluster looks like a small nebulous object to the naked eye; as known since ancient times. Classical astronomer Ptolemy described it as "nebulous mass in the breast of Cancer", and it was among the first objects that Galileo studied with his telescope. - Wikipedia
The Moon will be at third-quarter on Feb. 26th - rising around midnight, and visible to the south after sunrise. The rest of the week, the Moon will be a waning crescent - low to the east before sunrise. My wife and I caught a beautiful view of the third-quarter Moon this morning out our living room window.
The Sun has been spot-free for 26 days - almost a month! Large coronal holes remain open at both poles, and an irregularly shaped coronal hole along the equator has solar wind pouring out of it.
SpaceWeather.com says: "NOAA forecasters say there is a 50% chance of minor G1-class geomagnetic storms on Feb. 27th when a fast-moving stream of solar wind is expected to hit Earth's magnetic field. The gaseous material is flowing from a large hole in the sun's atmosphere, now facing our planet."
Solar astronomers have had a treat for the last several days, with prominences galore and a beautiful loop on the lower right limb!
The solar wind speed is 323.6 km/sec (↓), with a density of 5.9 protons/cm3 (↑).
Some interesting news from our solar observing fleet:
Measurements from @esa/@NASA's SOHO solar observatory show that Earth's geocorona (a diffuse cloud of hydrogen atoms around our planet) extends farther than previously thought — far enough that even the Moon orbits through it. More from @esascience: https://t.co/0nUFQuoawq pic.twitter.com/v245yJD4Qh

— NASA Sun & Space (@NASASun) February 22, 2019
Upcoming Earth-asteroid encounters:
Notes: LD means "Lunar Distance." 1 LD = 384,401 km, the distance between Earth and the Moon. Table from SpaceWeather.com
On Feb. 25, 2019, the NASA All Sky Fireball Network reported 14 fireballs.
(14 sporadics)
Beautiful fireball over south east Spain at 05:22 local time. @UKMeteorNetwork @amsmeteors @BOAM_meteore @exossorg @eMeteorNews @Marco_Langbroek @IMOmeteors pic.twitter.com/iC733rqlDH

— Vicente Cayuelas (@V_Cayuelas) February 22, 2019
Sweeping through this stunning field of view, #Comet 71P/Clark really is in the foreground of these cosmic clouds.
You can spot the small coma and short tail of the comet as a faint smudge near the center of the left edge of the frame.
📷Raul Villaverde Fraile
RT @SpaceFeatures pic.twitter.com/JccC4t4tsf

— SpaceAstronomer (@SpaceAstronomer) February 24, 2019
This is the position of the planets and a couple spacecraft in the solar system.
Position of the planets in the inner solar system, Feb. 26, 2019, highlighting the Kepler Space Telescope. Credit: NASA Eyes on the Solar System / Bob Trembley.
Position of the planets in the middle solar system, Feb. 26, 2019, highlighting the dwarf planet Ceres. Credit: NASA Eyes on the Solar System / Bob Trembley.
Position of the planets in the outer solar system, Feb. 26, 2019, highlighting Halley's Comet. Credit: NASA Eyes on the Solar System / Bob Trembley.
OSIRIS-REx - Student-Built Spectrometer Makes Observations
REXIS, my student-built x-ray spectrometer, observed Bennu for the first time during Launch +30 months calibrations last weekend! With that milestone, all five of my scientific instruments have now observed the asteroid. https://t.co/rwlJclhc3c

— NASA's OSIRIS-REx (@OSIRISREx) February 22, 2019
Mars Reconnaissance Orbiter - Attempt No Landings Here
HiRISE 4K: Attempt No Landings Here – The power of HiRISE shows how needed it is when missions are planning to land rovers or, eventually, personnel on the surface on Mars.https://t.co/f0q6SD5blE

NASA/JPL/University of Arizona pic.twitter.com/o3i2qsXdYD

— HiRISE (NASA) (@HiRISE) February 25, 2019

Here's a video scroll over of this incredibly rough terrain on Mars:

Hayabusa2 - Takes Sample of Asteroid Ryugu
This is an image captured just after #haya2_TD! It was taken with the wide-angle ONC-W1 onboard camera and shows the shadow of Hayabusa2 and a region of the surface that seems to have been discoloured by the touchdown. https://t.co/PEE6wfjDHE pic.twitter.com/UQoTNIQgIh

— HAYABUSA2@JAXA (@haya2e_jaxa) February 25, 2019
NASA Climate
Mirror, mirror on the Moon. By measuring the earthshine reflected by the Moon, scientists can track changes in our climate. More: https://t.co/YoHvoHUt3y pic.twitter.com/AONIWQlSnp

— NASA Solar System (@NASASolarSystem) February 25, 2019
-Data from the NASA Exoplanet Archive
Exoplanet Artwork by Bob Trembley
ESA/Hubble #Flashback: N103B was a Type Ia supernova, located in the Large Magellanic Cloud — a neighbouring galaxy of the Milky Way. Credit: @ESA / @Hubble_Space / @NASA https://t.co/2ktuoztAcY pic.twitter.com/V0j5atwLSa

— HUBBLE (@HUBBLE_space) February 26, 2019
I mentioned last week that I'm creating several posters for an Astronomy Night event to be held at my wife's school in March;  I found this super hi-rez image of the "Big Dipper" region of Ursa Major - I imagine this will look amazing printed 3'x7'!
---
Apps used for this post:
NASA Eyes on the Solar System: an immersive 3D solar system and space mission simulator - free for the PC /MAC.
I maintain the unofficial NASA Eyes Facebook page.
Stellarium: a free open source planetarium app for PC/MAC/Linux. It's a great tool for planning observing sessions.
Space Engine: a free 3D Universe Simulator for the PC.
Section header image credits:
The Sky - Stellarium/ Bob Trembley
Observing Target - Turn Left at Orion / M. Skirvin
The Moon - NASA/JPL-Caltech
The Sun - NASA/JPL-Caltech
Asteroids - NASA/JPL-Caltech
Fireballs - Credited to YouTube
Comets -Comet P/Halley, March 8, 1986, W. Liller
The Solar System - NASA Eyes on the Solar System / Bob Trembley
Spacecraft News - NASA Eyes on the Solar System / Bob Trembley
Exoplanets - Space Engine / Bob Trembley
The Universe - Universe Today
---